Peter grew up in the city, graduated from the University of Adelaide in 1984 and then worked and studied in the Adelaide teaching hospital system for 5 years with a focus on anaesthetics & psychiatry and in 1986 completed the Diploma of Obstetrics.
From 1988 – 1991 he worked for the Lutheran Church in Papua New Guinea – most of the time as the only resident doctor on Karkar Island (population 32,000 people). Skills in surgery and obstetrics were honed during this time, (responsible for delivering over 1000 babies in 3 years!)
Peter completed the College of GP training when he returned to Australia and was a locum doctor for a few months around SA before settling into practice at Loxton, where he has continued to serve the community for 30 years.
He has no regrets and still very much enjoys being part of this special community and continues to enjoy rural medicine for its complexity and variety and loves the country lifestyle.
He is married and has 2 adult children.
Dr Peter Hamilton
MBBS, FACCRM, DRANZCOG
Andrew graduated from the University of Adelaide in 1987. He then worked in several Adelaide based public hospitals, with extra training in obstetrics, paediatrics & anaesthetics, and then completed 3 month general practice placements in Ingle Farm and Balaklava. He moved to Loxton in Feb 1993 and joined the Practice. In the last few years he has ceased both obstetrics and anaesthetics after more than 20 years of procedural general practice. He reduced his working hours to 3 days a week and performs some practice administration and consulting.
Andrew was attracted to rural practice, and enjoys the variety of work, and the camaraderie and support evident amongst the doctors at Loxton. His non-medical interests included travel, especially cricket tours. For many years he played both cricket and squash regularly, but his physical pursuits are now limited to some pretty terrible golf. Andrew is a passionate supporter of the Adelaide Crows and a life member of both Wunkar Cricket Club and Loxton North Football Club of which he is its current president. He is married to Sally and they have three adult children, all of whom were born and educated in Loxton.
Dr Andrew Searles
MBBS, FACCRM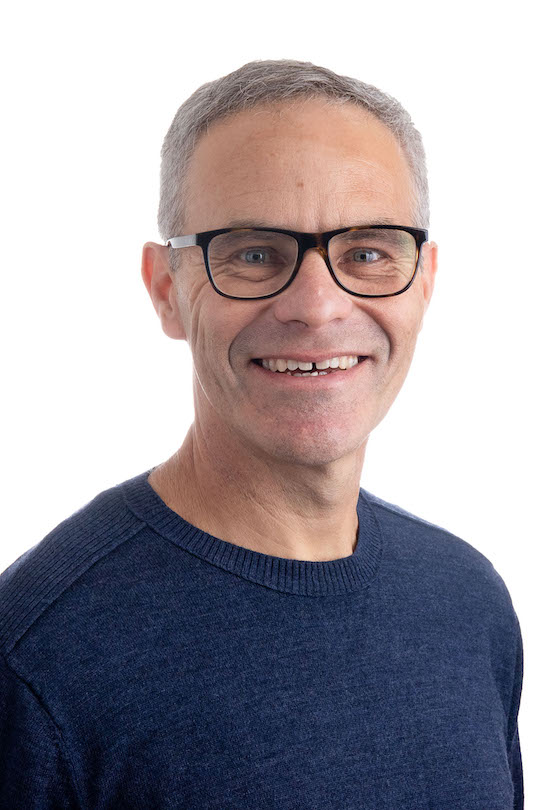 Cameron has been at Loxton practice since the end of 1996. He is married to Josie. They have 3 adult sons, who now live and work in Adelaide. Together, they chose Loxton due to its prettiness, and the friendliness of the doctors.
Cameron started working in rural medicine due to the variety of GP work, as well as the continuity of care that general practice offers, especially in a community such as Loxton. Apart from mainstream general practice, Cameron also specialises in anaesthetics, in both the Loxton Hospital and Berri Hospital. He is also involved in the training and supervision of GP Registrars, who will be the future of rural medicine.
Other significant medical interests include diabetes, sports medicine, skin cancers and older person health. Outside work he plays squash, does some swimming and jogging, reading, gardening, and art and craft.
Dr Cameron Robertson
MBBS, FRACGP
Attracted to rural general practice by the variety of work and the opportunity to provide health care to the local community, Jo's intention to stay about 10 years has morphed into living in Loxton for 20 odd years. She and her husband appreciated being able to raise their 2 children in a great country community.
Supported by great colleagues and welcoming friendly staff, the Loxton Health Centre is a rewarding place to work.
Born, bred and trained in South Australia, Jo graduated from the University of Adelaide in 1996 and completed her Fellowship in General Practice in 2003. Her interests include anaesthetics and medical education, supervising 3rd year Flinders Medical Students in the practice for more than 15 years.
Working part-time to ensure a healthy work-life balance, she feels part of the Loxton community playing bridge, singing in the choir, catching up with friends in book group, loves spending time in her garden and intends to stay for a while yet.
Dr Jo Rutzen
MBBS, FRACGP, Grad Cert Clinical Education
Despite being raised in suburban Sydney, Peter has spent almost 30 years working as a doctor in rural locations in NSW and SA. As a child he visited numerous relatives dotted around the NSW countryside inspiring him to seek a professional life as a rural GP which he has never regretted. He believes that the community spirit and cohesion found in rural towns is unique and managing the health needs across all generations is an extraordinarily fulfilling role.
Peter moved to the Riverland from NSW in 2002 and has been a full-time partner since 2004. He has a passion for obstetrics and teaches courses in emergency obstetrics. He also has an interest in the use of ultrasound for both obstetrics and emergency medicine, and has done postgraduate training in ultrasound. Over the years he has been active in health policy formulation and medical politics, and a member of number of committees and boards.
Peter enjoys cycling, kayaking, snow skiing and playing squash, and he is an avid reader of both fiction and non-fiction. He and his wife are keen travellers and look forward to the easing of Covid travel restrictions to continue their exploration of the world. They have 6 children ranging from 19 down to 8 years old.
Dr Peter Tait
MBBS, DRANZCOG, FRACGP
He fell in love with rural general practice while working as a medical officer at a district hospital in Southern Africa from 2000 to 2006. The wide variety of cases and presentations he encountered and the unique challenge that each person presented to his knowledge and skills were and still remains at the core of his passion for rural general practice.
He holds a masters degree in Family Medicine and Primary Care from the University of Stellenbosch South Africa. He is also a fellow of the Royal Australian College of General Practitioners.
He moved to Loxton in 2006 and has special interest in minor general surgery, primary care skin cancer management, exercise stress testing, men's health and aged care. He is also involved in training and mentoring medical students, interns and GP registrars.
His hobbies include travelling, playing table tennis, walking, playing tennis, listening to news and current affairs as well as reading novels especially legal thrillers. He is married to Chioma and they have 3 children.
Dr Godfrey Amaechi
MBBS, FRACGP, M.Fam.Med
Lachlan grew up in Crystal Brook in the state's mid north and graduated from the University of Adelaide in 2014. He completed his General Practice fellowship through the Australian College of Rural and Remote Medicine (ACRRM) in 2020 and also completed an additional year in anaesthetics at the Lyell McEwin Hospital in 2019.
Lachlan completed his final GP registrar in Loxton in 2018 and fell in love with Loxton and its friendly community. He is thrilled to have joined the practice as a partner in 2020, is building a house and plans to put down roots in the community.
Lachlan enjoys the broad range of rural general practice with interests in preventative health, men's health, older person's health and has a strong interest in teaching. He also is on the board for the Rural Doctor's Workforce Association.
Lachlan has moved up to Loxton with his wife Cindy who both hope one day to get a border collie once their house and yard is complete. In his free time he loves to go for bike rides around the town with Cindy, play piano, learn the violin, jog, attend the weekly quiz nights at the Loxton Club, go bushwalking and travel.
Dr Lachlan Mackinnon
MBBS, FACRRM, Anaesthetics
Kerrianne grew up on a farm in the mid north of South Australia. She graduated from the University of Adelaide in 2012, then spent 3 years training at Flinders Medical Centre. During that time, she obtained an Advanced Diploma in Obstetrics and Gynaecology and a Diploma of Child Health. She has had training in the use of ultrasound in obstetrics. Kerrianne moved to the Riverland in 2016, spending 1 year in Waikerie before moving to Loxton in 2017.
Kerrianne's areas of special interest include obstetrics, women's health and paediatric medicine, as well as medical student teaching. She is married and has 2 children.
Dr Kerrianne Harvey
MBBS, FRACGP, DRANZCOG (Adv.), DCH
Millie graduated from the University of Adelaide in 2016. After completing internship at the Royal Adelaide Hospital, she completed three residency years – gaining experience in Psychiatry, Emergency Medicine, Paediatrics, Geriatrics and Obstetrics. During this time she completed the Sydney Child Health Program and commenced a Diploma in Obstetrics and Gynaecology. Millie is undertaking Rural Generalist training and is completing her first community general practice year in Loxton. Having grown up in the country, Millie is passionate about rural communities having access to quality health care.
Outside of medicine, Millie enjoys cooking, music, hiking, camping, and devouring podcasts. Her special interests lie in Women's Health and Paediatrics.
I am a GP registrar and UK graduate from Brighton. After completing my internship in 2018, I moved to Adelaide where I mostly worked in the Emergency Department of RAH and QEH.
My special interests are obesity and metabolic disorders, which stemmed from my time completing a BSc in Endocrinology in London.
In my spare time, I enjoy travelling, cooking and learning new languages.
My role as a Nurse Practitioner includes a variety of challenges and rewards each day.
Working with an amazing team at the Loxton Health Centre in collaboration with general practitioners, medical registrar's and student doctors to improve patient outcomes.
The most rewarding aspect for me as a Nurse Practitioner is the ability to provide a holistic approach.
I love every aspect of being a Nurse Practitioner and feel that I am finally working to my full potential as a nurse. Assessment, diagnosis, prescribing medications, referrals for imaging, blood tests and collaborating with specialists, education, counselling and support are just a few roles in a regular day.
Focusing on you as a whole person while treating specific health problems in the context of family, work and other commitments is my goal.
Sharlene Milich
Nurse Practitioner
After 10 years as a paramedic in Adelaide, Darianne decided to retrain as a doctor in order to expand her medical knowledge with a career that provides more comprehensive care to the patients she meets.
Born in Jamestown, Darianne has a special interest in rural and emergency medicine, and has elected to return to a country setting with the Flinders University rural training program here in Loxton.
Darianne Growden
Medical Student
I am in my second-last year of a medical degree and absolutely loving being back in my hometown for placement. Six years ago I left to study radiography. A few years in I realised that I actually wanted to be a doctor, so made the switch and have no regrets. I chose to join the MDRS program here because I loved growing up in Loxton and knew what a wonderful learning experience it would be. My other motivation was to stop Searlesy's run of recruiting all the students to Loxton North. I love rural medicine because of the autonomy and the challenge of making a diagnosis with more limited support than a big city hospital. In my spare time you'll find me playing piano, netball, running or spending time with family.
Laura Zdanowicz
Medical Student
Dr Andrew Markwick – Cardiologist
Dr Ken Fielke – Psychiatrist
Dr Richard Kwiatek – Rheumatologist
Audika – Audiologist
Support Team
Nurses: Sandy Kanizay, Deb Shephard, Tracey Spanos, Jessica Tree, Georgia Knauer, Sue Hoffmann, Hollie Bullock, Amanda Flavel, Di Smith (RN), Leisa Victor (RN) Angela Bambrick (RN) and Marilyn Ward (RN).
Practice Manager: Sandy Jachmann
Assistant Practice Manager: Jill Lange
Administration Staff:
Stella Klonaris, Janelle Watts, Liz Florance, Kerrin Redman, Duani Vowels, Louise Gutsche, Reshika Patterson, Janni Pluckhahn and Nicole Kaesler.